Rates
---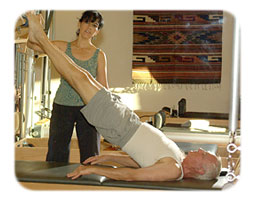 PRIVATE TRAINING SESSIONS
Private Pilates, GYROTONIC® or GYROKINESIS® , Wellness Therapy Training Session
1 Session: $80.00
6 Sessions: $390.00 ($65.00 per/session)
6 Sessions w/ Jeanette: $420.00 ($70.00 per/session)
Semi-private Pilates, GYROTONIC® or GYROKINESIS® Training Session for Two People
1 Session: $85.00 ($42.50 /person/session)
6 Sessions: $450.00 ($37.50 /person/session)
Private Pilates Session with a student teacher
1 Session: $40.00
6 Sessions: $210.00
Each session runs 55 minutes.
All packages are prepaid
6 sessions expire in 90 days
Semi-private Pilates Session w/ a student teacher
1 Session $60.00 ($30.00 /person/session)
6 Sessions: $342.00 ($28.50/person/session)
Each session runs 55 minutes
All packages are prepaid
6 sessions expire in 90 days
---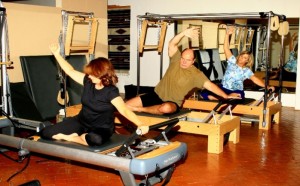 GROUP Pilates MAT /EQUIPMENT CLASSES
Group Mat Classes
Drop-in: $20.00
6-class Card: $90.00 ($15.00 /class)
Please schedule your class time prior to class you wish to attend
Class limited to 5 people
Group Mat/Caddy Class
Drop-in $30.00
Monthly: $25.00 per class
W/student teacher: $15.00 per class
Each session runs 55 minutes.
All classes pre-paid
Please schedule ahead/24 -hour cancellation required
Class limited to 3 people
Group Equipment Classes
Drop-in: $30.00
Monthly: $25.00-$28.00 per class depending on how many classes taken in a month.
W/Student teacher: $20.00 per class
Each session runs one hour.
All class cards are prepaid.
Please schedule ahead /24-hour
Class limited to 3 people
---
NEW STUDENT EXCLUSIVE
Three 55-minute private sessions
---
WELLNESS THERAPY SESSIONS
Private Pilates, Yoga, GYROTONIC® or Fitness Training Session
Priced the same as all Private Sessions
Wellness therapy Sessions are especially for those people who have specifically been recommended by their physical therapist or doctor to incorporate Pilates, GYROTONIC® and Lifestyle changes into your recovery.In order to be considered for this option:
Client must have a note from their doctor or Physical Therapist recommending these sessions for a specific reason.
Clients may take advantage of New Student Package for first three sessions.
---
REFLEXOLOGY
The underlying theory behind reflexology is that there are "reflex" areas on the feet and hands that correspond to specific organs, glands, and other parts of the body.
55-min: $50.00 per session
75-min: $65.00
Reflexology is a popular alternative therapy. It promotes relaxation, improves circulation, reduces pain, soothes tired feet, and encourages overall healing.
---
CRANIAL SACRAL
Cranial Sacral and/or Somato Emotional Releases is a profound healing process which can release the deeply held patterns of disease – both physical and psychological – which accumulate throughout life as a result of injury and illness and become held into the body tissues, leading to ill-health and dysfunction.
50-minute session: $60.00 or 5-sessions for $275.00
encourages overall healing.
---
MASSAGE THERAPY w/ Professional Massage Therapy by Lisa
One 55-minute session is $60.00
One 90-minute session is $79.00
---
WELLNESS COACHING 
At your private sessions, we will work together to look at your current eating, exercise and lifestyle habits and discuss gradual changes you can make to your diet, exercise and lifestyle that will lead you to your ideal weight and to restore and maintain peak health and wellness.
First 75-minute session is $85.00
Each  additional one hour session is $60.00

---
Pilates Teacher Training Program
500-Hour Comprehensive Training
75-Hour Mat Work Training
At Total Body Wellness, we strive to make our classical Pilates teacher training doable and affordable so that you can fit your training into your life without draining your time and resources.  Because of this, we sit down with every prospective  student and map out a plan that works especially for you.   Therefore, depending on your experience and time willing to give, we will set up a monthly payment plan with a goal of finishing your training within one or two years.  Which ever works best for you.  Please contact Jeanette for details.